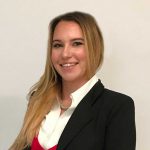 Candice Powell is one of the 4 associate attorneys with Rooney & Rooney, P.A. Ms. Powell has previously worked as an Assistant State Attorney in both Brevard and Volusia counties. As such, Ms. Powell's understanding of the criminal justice system is quite extensive and from both side of the fence. Ms. Powell also has prior experience with probating of estates as well as drafting estate planning documents.
Rooney & Rooney, P.A. is very proud to share Ms. Powell's contribution to our great country's military. Ms. Powell is currently a Staff Sergeant in the Florida Army National Guard and was most recently deployed from July 2015- June 2016 in Kenya, Africa as part of Operation Enduring Freedom. Ms. Powell has also served in support of Operation Iraqi Freedom and Operation New Dawn.
Ms. Powell has a firm belief in doing what is just and right and this carries through in her practice and application of the law.
Attorney Candice M. Powell focuses on the following areas of practice: